Use filters to slice and dice data for reports, visuals, and more.
Set one or many filters to extract the exact data you are looking for.
---
Did you know? You can download all of your data before or after you slice it up. We believe in transparency and research quality data.
---
Where do data filters apply?
Data filter view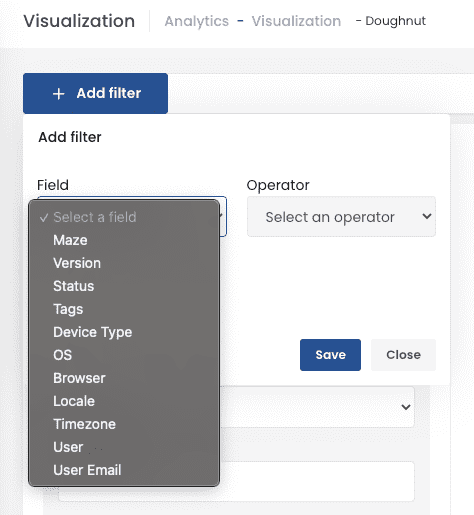 1. Select from one or many fields to filter on.
| Fields                             | Description |
| --- | --- |
| Maze | Title of your maze. This filter is selected automatically if you access the analytics from a specific simulation maze. |
| Version | Select or omit a specific version. For example filter by "version is not beta". |
| Status | Filter by completion status (int, inprogress, finish, fail, restart). See definitions below. |
| Tags | Filter by link tags for example "spring", "2020" to see results from a specific link or tag. |
| Device Type | Desktop, Smartphone, Tablet, etc. |
| OS | Device Operating System e.g. Windows, Android, iOS, Ubuntu, Linux, etc. |
| Browser | Browser type e.g. Chrome, IE, Firefox, Safari, etc. |
| Locale | Default Language set on the user's device e.g. American English, Spanish, French, etc. |
| Timezone | Timezone set on the user's device. It will give you an idea of the region from where the user is playing the Maze. |
| User | Unique value associated with individual user accounts |
| User email | The user's email if captured |
| City | The user's city according to their ISP. |
operator to filter the data by the field.
2. Next select the
| Operator                         | Description |
| --- | --- |
| is | Field is or is equal to. e.g. Maze is "Maze title" will filter the results by that Maze. |
| is not | Field is not or shows everything except the selected element. e.g. Version is not beta. |
| is one of | Inclusive filter is one of a type. |
| is not one of | Exclusive filter is not one of a type. |
| contains | Fuzzy inclusive match the field contains text. |
| not contains | Fuzzy exclusive match the field does not contain text. |
3. Select your element.
Filter by time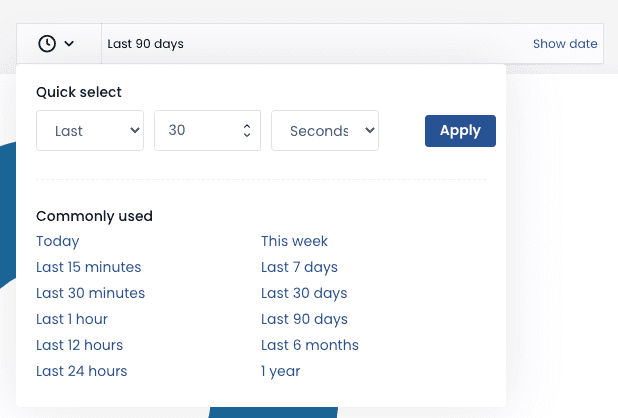 Understanding status types
There are several status types when a user is learning. We wanted to fully understand how a user's experience in the simulation.
| Status                         | Description |
| --- | --- |
| init | The user clicked the link and loaded the start page. The simulation was initialized. |
| inprogress | The user's started, but has not reached an exit node and there is still a live session. Once the session expires, the status becomes abandoned. |
| finish | The user reached a finish node. |
| fail | The user reached a fail node or timed out or ran out of credits. |
| restart | The user intentionally restarted the maze. |
| abandoned | The user has abandoned their inprogress session. |